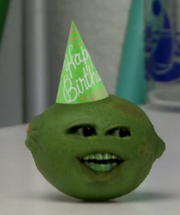 Lime was a character in Annoying Orange: Happy Birthday!
He appeared again as the left knee of Frankenfruit's Sister and survived the Halloweenie attack.
Quotes
"Well, suprise! He never showed up."
"Bo, we live in a kitchen."
"What's Midget Apple doing in a cupcake?"
"You don't do that at birthdays!"
"Hey, get off me!"
Trivia
He may be a realtive of the three limes killed by Knife in Kitchen Intruder
This character's name is never mentioned.
He is the first lime to appear.